Garrison Institute on Aging
Dr. Reddy's Highlights
A Keynote Presentation by P. Hemachandra Reddy, Ph.D. at Second International Conference on Neurology and Brain Disorders
Dr. P. Hemachandra Reddy, Executive Director and Chief Scientific Officer of Garrison Institute on Aging and a Professor Cell Biology and Biochemistry and Neuroscience/Pharmacology and Neurology Departments of School of Medicine was invited to give a keynote talk at the 2nd International Neurology and Brain Disorders (INBC), held at Rome, Italy June 4-6, 2018. Dr. Reddy presented a talk entitled 'Abnormal Mitochondrial Dynamics and Defective Synapses: Protective Role of Reduced Dynamin-related protein 1 in Alzheimer's Disease' on June 5th. Dr. Reddy was honored with a certificate of recognition for his contributions to neurology and brain disorders at the conference.
Dr. Reddy explained how amyloid beta and phosphorylated tau damages mitochondria and synapses in neurons from patients with Alzheimer's disease. He also presented compelling evidence that reduced levels of mitochondrial division protein 'dynamin-related protein 1' protects synapses and mitochondria in Alzheimer's disease neurons. Currently, Dr. Reddy and his lab members are actively working on to develop drugs that can enhance synaptic sprouting and maintain mitochondrial ATP levels at synapses of Alzheimer's disease neurons.
The INBC 2018 will bring together a collection of investigators who are at the forefront of their field and will provide opportunities for junior scientists and graduate students to interactively present their work and exchange ideas with established senior scientists. The Neurology and Brain Disorders conference explores the entire breadth of Neurology with earlier and contemporary work and provides a critical review of the present state of the subject. INBC 2018 provides an international forum to intensify the information exchange and is an excellent opportunity for Researchers and Scientists in the domain of Neurology from around the world and to promote/present innovative ideas that will influence and foster continued research. The speakers and delegates come from academia, private and government laboratories across the world.
2018 Publications
History
In 1999, Texas Tech University Health Sciences Center leadership identified aging as a strategic priority for the 21st century. The Board of Regents approved the establishment of the Institute for Healthy Aging, which was renamed in February 2005 to the Garrison Institute on Aging (GIA), in honor of Mildred and Shirley L. Garrison.
The Garrison Institute on Aging (GIA) is the keystone of the TTUHSC initiative to help seniors successfully approach and extend the years of quality life. From investigating the causes of neurodegenerative diseases, to preparing health care professionals for the growing demands of geriatric care, the GIA is addressing health issues of aging population. The GIA is a collaborative initiative of the Health Sciences Center schools: Health Professions, Medicine, Nursing and Pharmacy.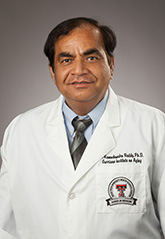 The Garrison Institute on Aging is a unique organization whose mission is to promote healthy aging through cutting-edge research in Alzheimer's disease and other diseases of aging, and through innovative educational and community outreach programs that target students, clinicians, researchers, health care professionals and the public.
The vision of the institute is to become nationally and internationally recognized as a center of excellence for the creation and application of new knowledge about healthy aging through research, innovative interdisciplinary education and collaborative community outreach efforts.
Programs
TTUHSC Researcher Receives National Institute of Health Grant
The National Institute of Health (NIH) awarded P. Hemachandra Reddy, Ph.D., the executive director and chief scientific officer of the Texas Tech University Health Sciences Centers Garrison Institute on Aging (GIA), a $1.9 million, five-year R01 grant from the Neurological Disorders and Stroke Institute of the National Institutes of Health.
Grant Information:
PI: P. Hemachandra Reddy, PhD.
"Mitochondrial Fragmentation and Neurodegeneration in Huntington's Disease."
PI: P. Hemachandra Reddy, PhD.; Co-PI: Arubala Reddy, PhD.
"Saga(Sex and Gender) Grant from Alzheimer's Association."
Click HERE to view all ongoing Research Grants and Outreach Support at the GIA.
In 2017, the Garrison Institute on Aging was a significant contributor to this important body of knowledge. Under the leadership of Dr. Hemachandra Reddy, our researchers continue to conduct novel research in these areas with the hope that one day their findings will translate into strategies or treatments to prevent, delay or slow age-related diseases.
Tedd L. Mitchell, MD
President Texas Tech University Health Sciences Center
Seminars & Journal Clubs
Connect With Us
Healthy Lubbock