Examine Infinite Possibilities
An education from Texas Tech University Health Sciences Center (TTUHSC) School fo Medicine prepares students to tackle all major challenges of 21st Century patient care.
Interprofessional and collaborative work are essential to team-based patient care, and they are cornerstones our curriculum. We are one of few universities nationwide that offer a School of Medicine, School of Health Professions and School of Nursing under one expansive roof, making interdisciplinary learning not only possible, but encouraged.
Mission
Founded in 1969, the TTUHSC School of Medicine has continually worked to address the shortage of physicians in West Texas by providing quality, innovative educational opportunities to medical students and residents who serve as competent and compassionate medical professionals for the region and the state of Texas. The medical education program emphasizes the principles of primary care and provides sound inter-disciplinary and inter-professional training that integrates basic sciences knowledge, clinical skill, diversity, and a humanistic approach focusing on high standards and comprehensive evaluation. The school's medical practice, Texas Tech Physicians, strives to utilize state-of-the-art technology to effectively meet the growing needs of a diverse and largely rural patient population through strong partnerships with clinical affiliates. Principles of teamwork, humanistic care, and cost effectiveness are embedded into the practice of medicine. The research strategy of the school is to develop insights into the science of medicine, treatments, prevention, and cures, and enhanced methods for managing patient illness, with an emphasis on opportunities for medical student research. Centers of Excellence and Institutes work toward defined areas of excellence where contributions on a national level can be made.
Vision
To be known for excellence in teaching, patient care, and scientific contributions that enhance the health care of communities in the region.
A Look at Our History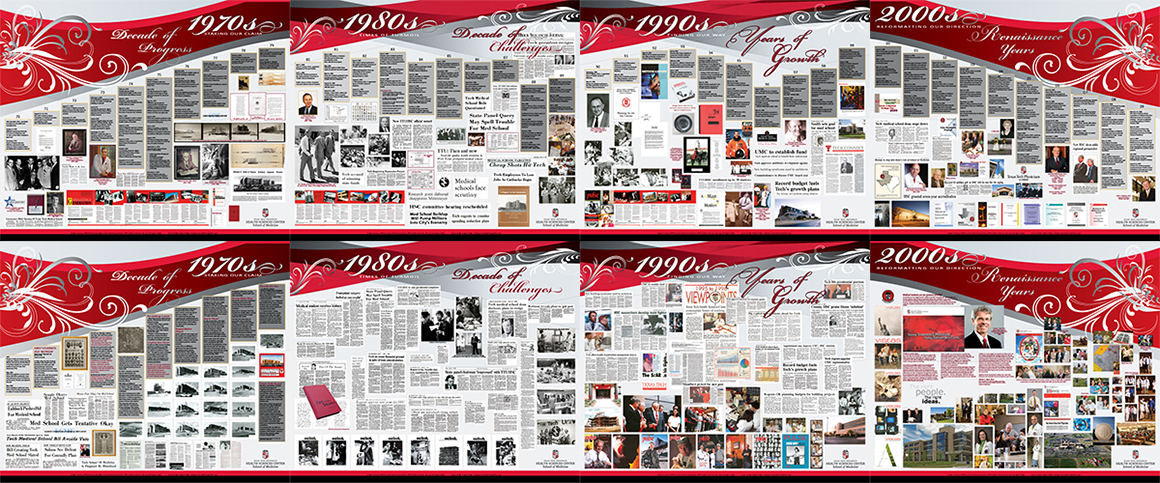 In 2009, the TTUHSC School of Medicine celebrated 40 years since its creation by the 61st Texas Legislature. A variety of events were held to commemorate this anniversary, and a timeline was displayed to chronicle the school's history. The timeline display designed by Margaret Vugrin from the Preston Smith Library of Health Sciences and Tim Hayes with the School of Medicine, Office of the Dean, received a 2010 Gold Addy Award from the Lubbock Advertising Federation. To view our history by decade, click HERE.
Got Questions?
We're here to help. Contact us if you have questions.