Faculty Recruitment


Why Join Texas Tech Health Sciences Center (TTUHSC)?

Faculty - Who we are......

We have established ourselves as a leader in education and patient care and are building a top-ranked research environment with significant studies under way in areas such as aging, cancer, reproduction, genetic diseases and rural health. In addition, our location adjacent to Texas Tech University provides a unique opportunity for advancement of knowledge through scientific collaborations.
Faculty, student, programs statistics? Maybe notables, accomplishments list?
TTUHSC Places First in 2016 National Rankings for Graduate Programs - read more
Organization - What we do.....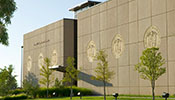 TTUHSC's dedication to education, patient care and research has made an impact on the health of West Texas and beyond for almost 40 years.
TTUHSC has trained more than 10,000 health care professionals, and meets the health care needs of more than 2.5 million people who live throughout a vast 108-county area stretching from the Texas Panhandle south to the Permian Basin and west into Eastern New Mexico.
Beginning in 1969 as Texas Tech University School of Medicine, today TTUHSC is a seven-school university located in Abilene, Amarillo, Dallas/Fort Worth, El Paso, Lubbock, Midland and Odessa.
Our goal is to become known as an institution that advances knowledge for students and practicing health care professionals through educational opportunities and research while providing quality patient care and service.
We invite you to be a part of it.
Culture - What we value.....
Through research, education and patient care, TTUHSC aims to promote a greater health environment for Lubbock and beyond. We strive to decrease health disparities in minority and rural populations and improve the health of the community through collaborations with area hospitals and health centers. The efforts of our faculty, staff and students influence the community, state, nation and world, and our vision of excellence lights the path for the future in the rapidly growing world of health care.
Benefits - Why we love Lubbock.....

Here are some of the many advantages Lubbock has to offer its citizens and visitors: