Office of Institutional Advancement
Be Part of Something Life Changing
Your Life, Our Purpose Campaign
A medical breakthrough. A student's call to help people. An entire community's well-being. Your gift to Texas Tech University Health Sciences Center makes a direct and positive impact on thousands and sets in motion the advancement of health care in Texas and around the world. Your gift fuels and inspires our most fundamental mission: saving lives.
Customized Your Generosity
Selected Your Preferred Area of Support
CREATING NEW KNOWLEDGE
Medicine is a blend of science and art. It's through collaborative and translational research that we seek the incredible — new treatments, therapies, cures and vaccines to improve your life. That's our purpose.
SERVING PATIENTS HERE, AND EVERYWHERE
Providing comprehensive and affordable care to residents in more than 108 counties is no small task, but it's a mission-critical component of our overall commitment to keeping you healthy. As we move into the next 50 years, we're combining state-of-the-art technology with traditional values — making your life, our purpose.
WITHOUT YOU WE WOULDN'T BE HERE
We're demonstrating the real value of education by transforming scholars and scholarships into the very lifeblood of our region, our nation and the world. Last year, we disbursed nearly $80 million in grants, scholarships and loans to future health care professionals. This investment will continue to yield dividends for decades to come. At TTUHSC, we believe that accolades and rankings indicate how much your generosity really counts. Thank you for your support.
When you're in the health care industry, you should care about the future of your communities.
Logan Price, AuD (Health Professions '13, 09)
School of Health Professions Alumni Texas Tech Health Sciences Center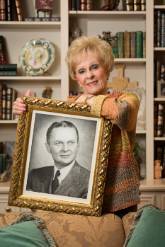 Lubbock physicians leave legacy through scholarship benefitting medical students
Over the course of 50 years, O.W. "Babe" English, M.D., and Ewell L. Hunt, M.D., covered the gamut of health care needs—from treating the common cold to major operations.
Today, the legacies of these two physicians to the Lubbock medical community live on through scholarship support at TTUHSC, thanks to their families and their patients. More