Opportunities You Make Possible
My family and I are beyond grateful for this scholarship. Thank you from the bottom of my heart.

Because of you, I am able to further my education in this wonderful field. I'm finishing my senior year in the Speech, Language and Hearing Sciences Program and plan to pursue a graduate degree in Speech-Language Pathology. I am interested in working in the areas of traumatic brain injury, stroke, dementia and stuttering. I also have an interest in newborn hearing screenings.



Kristin Pustejovsky, pictured with her family
2018 graduate School of Health Professions

You've Helped Make Their
Dreams Come True
Your generosity and support through scholarships have been instrumental in the lives of many of our 2018 graduates. Here are a few of their successes, achievements and opportunities ... made possible by you.
Fatema Tuz Zahra
Graduate School of Biomedical Sciences
Mary Lou Clements-Mann Scholarship

This scholarship will help me attend conferences and workshops related to my research. Altogether, this scholarship makes me more confident to reach my future career goals.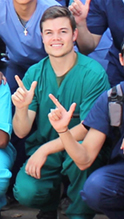 Merrit Crump
School of Medicine
Dean's Scholarship

Obtaining a M.D. is not cheap, and your donation will be of great help in paying for mine. I will remember your willingness to give to a stranger as I continue my path to becoming a physician. Know that you have influenced me to act in the same manner. It is with utmost sincerity that I thank you, and I hope that, in some way or another, your kindness finds its way back to you.
God bless and Wreck 'em, Tech!
Elizabeth Haynes
School of Nursing
Marshal Verne Ross Foundation Non-Endowed Scholarship

Thank you for your generosity, which has allowed me to replace equipment needed to complete my clinical experience. Because of you scholarship, I am able to better assess my patients and provide better patient care based on their assessments.
Thank you for your thoughtful and generous gift.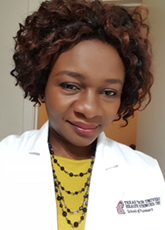 Glory Mukemfor
School of Pharmacy
Walgreens Diversity and Inclusion Excellence Scholarship

This scholarship will not only help pay part of my school expenses for this academic year, but it serves my family by relieving us of some of our financial burden. My husband and I are both students and we have two sons: a 6-year-old and a 4-year-old. This will take some stress off of us so that we can focus on our studies this last academic year. This scholarship offer is another blessing on my path to achieving my dream of becoming a pharmacist.
Thank you, Walgreens!